Welcome to Shimmerees web warehouse.
Fine collectible costume jewelry & accessories for Ladies with a Past.
If you don't have a Past, we've got one for you. Vintage and vintage-style inventory.
Featured Item:
A spectacular necklace by designer Kenneth J. Lane.
See Signed & Designer Costume Jewelry page for more information.
Theme Page: Racy Reds!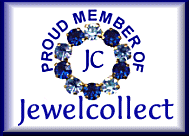 Website design and images © Francesca Myman 2006.
This Collectible Costume Jewelry Web Ring site owned by Francesca Myman.
Previous 5 Sites | Skip Previous | Previous | Next | Skip Next | Next 5 Sites | Random Site | List Sites
Want to join the ring? Click here for all the info .